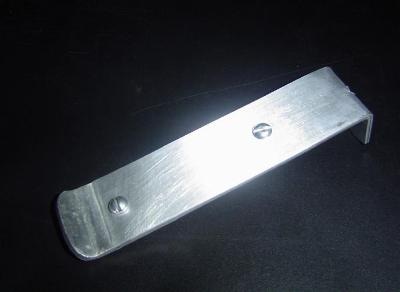 (empty)

IMS develops tools, equipment and systems for the construction, hardware and the sporting industries. we would like to introduce a new product which we have had a great response from carpenters and builders.

IMS has produced the "The Deck Marxxer" which is used to quickly mark decking floor boards so that the decking screws can be uniformly aligned and spaced with the supporting floor joists. This quick and easy tool saves time and produces a higher quality finished decking look.


DIRECTIONS:


1, Center the Deck Marxxer over the supporting floor joist by eyeing the Marxxer hole in the 90 degree bend with the centerline of the joist.


2. Hit the two Marxxer screws with a hammer.


3. Remove the Marxxer (The Marxxer evenly center punches the decking boards in preparation for the decking screws).


WHY USE THE DECK MARXXER?The Deck Marxxer will help to evenly space your decking screws, keeping them evenly aligned and spaced from deck board to board. The Deck Marxxer will save time screwing due to the quick center punched holes which are used as guides for the screws.The Deck Marxxer eliminates the need to measure and mark each board for even screw spacing. Can be used for other decking materials as a center punch for drilling if desired.

HELPFUL HINTS: Secure one end of the decking board with two screws and then mark all other joists locations along the board with the "Deck Marxxer". After all joist locations are marked, screws off the board making sure that you have the appropriate spacing between decking. Mark and screw one board at a time. If working with a partner, one person marks and cut the decking while the other uniformly screws in the boards.

The Deck Marxxer is offered to distributors in two models for both 5.5" and 3.5" decking boards.

The heavy duty tool model # DM500 is available in 0.100" steel stock.

Light weight tools are also available model # DML500 in 0.050" steel stock. Additional discounts are available depending upon the quantity requested.